Know the ways your SERVICE Industry suffers without ERP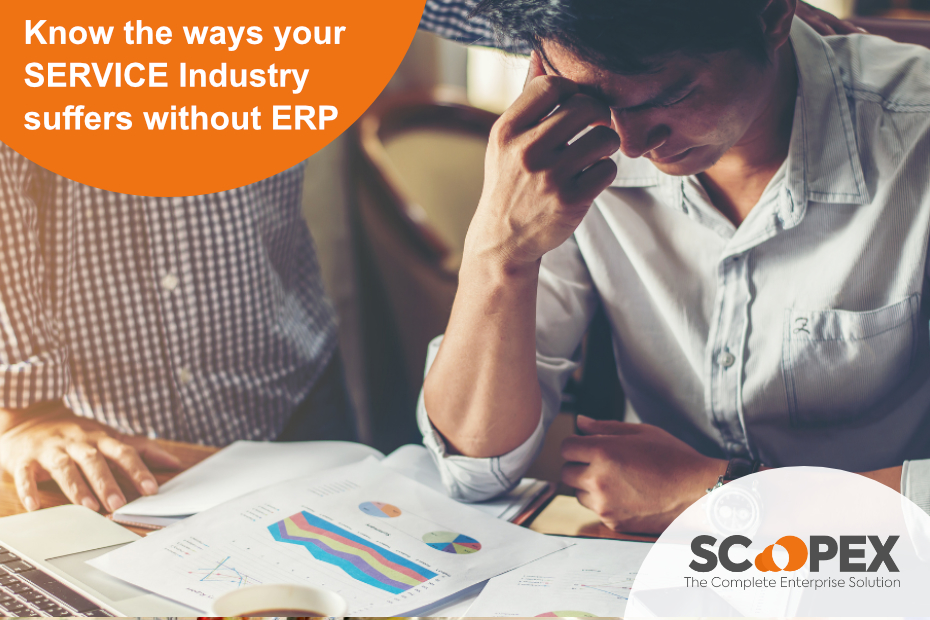 A robust ERP is critical for the service Industry considering its diversity and rules. The service Industry involves a broad range of operations that benefits both businesses and the people concerned. This industry doesn't produce physical goods but focuses on improvement, maintenance, and altering physical items. Banking, telecommunications, education, healthcare, transportation, and others come under this industry.
In the service Industry, people trade their expertise, talent, and energy with others in the sector to enhance productivity, efficiency, potential, and sustainability. The daily activities of business owners around the globe have transformed. People aimed to save time wasted in redundancy. The expanding need for digital advancement became inevitable. Automation and Integration solutions offer a great deal to business owners in saving time, energy, and cost. In this modern era, service-oriented approaches have become increasingly significant. The assistance of a trustworthy ERP is critical as your service industry suffers horribly without ERP software.
Ways your company suffers without ERP
Faulty Decision making
When you don't have access to real-time business data, you will stay behind without establishing effective collaboration in the organization. Scopex ERP tool offers your business a time-saving and revenue-generating solution with real-time reports and analytics. It helps you make data-driven business decisions, build a robust data-driven organization by deriving business insights, and regulate costs.
Decentralization of process
Using different software to track and capture data is outdated in the digitally advanced era and causes inconveniences in the operation of the organization as a whole. The process inside the organization becomes disjointed and inefficient. Deploying ERP software solves this by having a unified platform and centralization of the data.
Inefficient Accounting
Using paper invoicing and sales orders consumes countless hours of entering data each year. You have the potential to fall out of sync with your accounting and sales decisions in terms of customer interactions. The outdated practice in the business costs you more time and energy. Automating manual operations enhances productivity and efficiency.
Benefits and advantages of deploying Scopex ERP into your service sector
• Improved production planning and resource management
• Smooth and easy Invoicing/billing
• Maintains records of the invoice with inventories used in service completion
• Efficient management of bills receivables and frequency of payables
• Simplified compliance and risk management
• Easy storing and tracking of inventories used in rendering services
• Easy management of employee payouts and related records
• Effective tracking of Project-wise cost and revenue
• Accounts books integration across all operations and functions
• Improved Inventory monitoring
• Happy customers
• Better analytics
• Improved productivity
• Preventive maintenance
• More money and time saved
• Improved collaboration

Features of Scopex ERP that benefit your service Industry
• Web and Mobile Application
• Real-time communication
• Cloud-based platform
• Real-time complaint tracking
• No more juggling between spreadsheet
• All-in-one platform
• Complaint and maintenance schedule
• Work order management
• Inventory management
• Manage multiple facilities
• Vendor management
• Geo-fencing and tracking
• Meter readings App
• Third-party Integration
• AI Technology
• User Access management
• Reports and Analytics
• Fully Customizable fields
• KPI dashboards

The benefits of Scopex ERP software are numerous and make it the most crucial tool for the service Industry. Managing data through spreadsheets costs you more than deploying an ERP system to your industry.
Scopex ERP Software
to effectively manage your service sector business and keep it on the right track.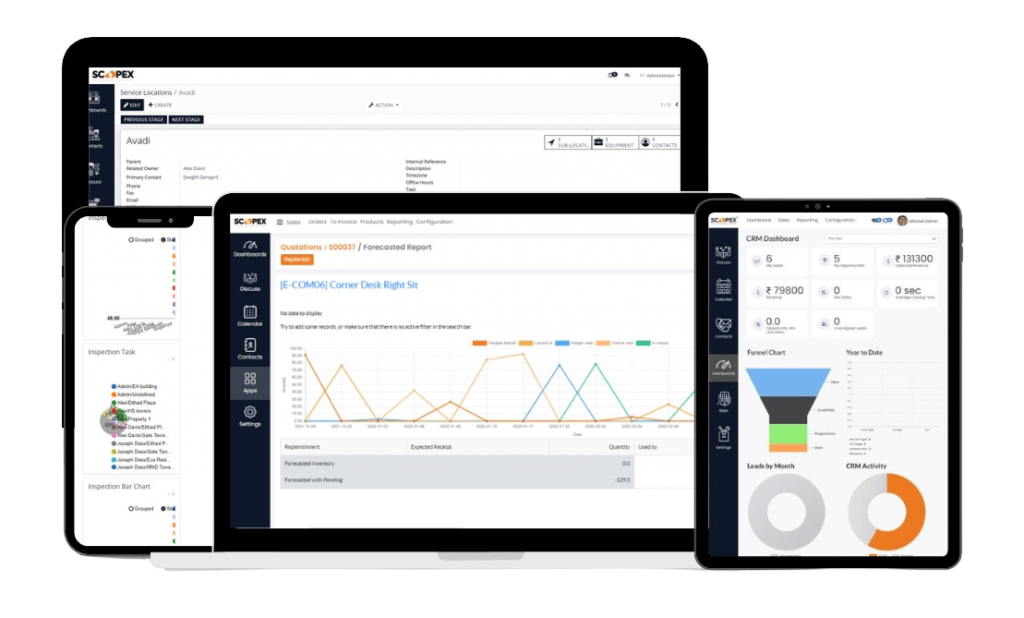 Scopex Apps provides a FREE Demo to all its client to play around with the product & get to know if it suits their business. Scopex apps also offer a 1 to 1 free demo session to explain how you can use Scopex apps for your business.