Why should you Automate leave management at your company?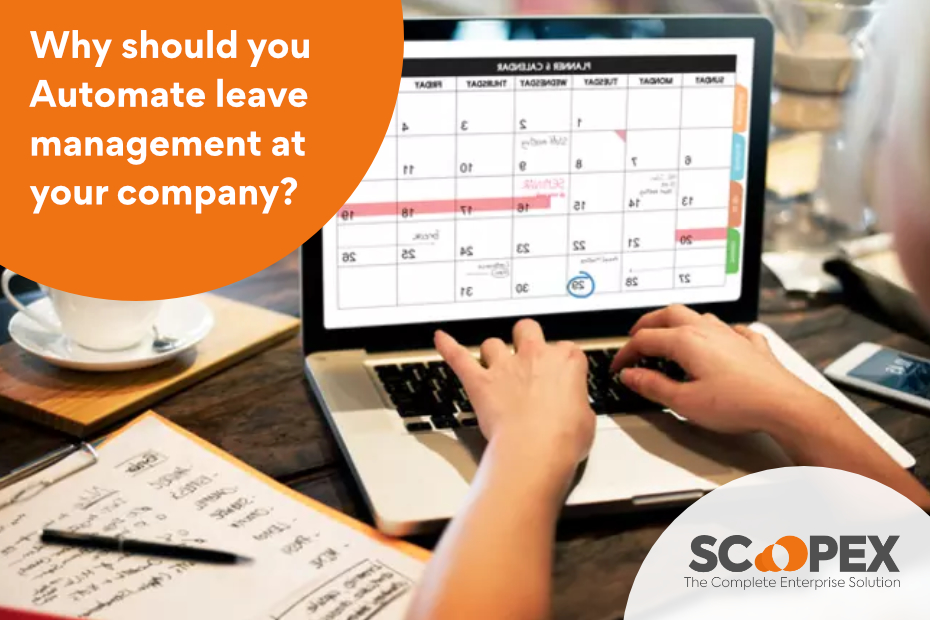 In the past, leave was managed traditionally by paper forms and basic spreadsheets. The manual leave management system is Cumbersome, time-consuming, and prone to human errors in record keeping. Luckily, we have workflow software platforms to manage this pain point to help us automate the leave management process.
Automation manages A-Z leave-related aspects to optimize multiple and diverse leave requests at once. The automation eliminates everyday tedious paperwork making leave management extremely simple. It supports any level of users, simplifies the whole workflow, and is configurable to fit the policies of any organization.
In addition, it offers online simplicity to approve or decline requests directly via mail and sends automatic email reminders for pending leave requests and approvals. Collects and exports various reports of stakeholders in multiple formats for easy sharing. Dashboard in the digital leave management system exhibits the organizational-wide leave in a single platform.
When manual participation in redundant work reduces, it safeguards the valuable time & energy. Employees can sharpen their skills to increase productivity and get recognition for their advanced skills. Happy employees contribute 13 % more towards your business productivity. With the simple leave management system, the employer and employees can have peace of mind.
It electronically stores the record in the cloud. We can call it a green work initiation that effectively streamlines the process without wasting papers.
Promote policy consistency
Manual policy management makes people easily break the rule, but the digital records secret manipulation is not easy. It manages instant updates in the policies and sends a notification to all employees.
Ensure compliance with labor laws
It is a must to comply with labor laws. When an employee tries to violate the law, the platform will generate a warning automatically.
Making mistakes is what makes humans. With automated leave management, prone-to-mistake is a thing of the past. Information stored in one place allows anyone to view it. It helps everyone stay on the same page by how much time off and vacations are taken or left.
The automated process gives easy and better visibility of time off requests than the paperwork. Managers can easily compare all employee leave requests with the calendar of deadlines and other workflows to ensure the team is available for help at critical moments.
People should be encouraged to take time off to sharpen their blades when they get back to work. Online platforms make it easier for employees to ask for leave when they need it. They can request the time off with just a few clicks and send them to their boss's inbox without any inconvenience.
The digital platform makes it easy for the employees to track the utilized and remaining vacations and leaves availability.
Communicate your guidelines in real-time
The leave policies draft can be available to each employee during onboarding. An employee can access them online at any time of the day.
Refresh and recharge employees after steady burnouts
Retaining employees and employee work satisfaction is essential for the growth of the business. Employees need rest and rejuvenation through leave. Periodical reminders to employees who have worked hard for your company to take time off and concentrate on self-care can make them healthier and happier employees. It is done through an automated leave management system effortlessly.
Save company substantial costs
When paid and unpaid leave calculation goes wrong, it may lead to unnecessary losses to the company through paying extra wages. An automated leave management system puts a full stop to this error.
The Scopex leave management system
An integrated, robust, cloud-based, automated leave management system reduces the cumbersome work process for an employee and the employer.
The Scopex operating system is as simple as that an employee can submit a leave request in just a few clicks. Select the category, reasons for applying leaves, upload the necessary document, and add informative notes are all the simple clicks existing in Scopex.
The request gets notified to the concerned boss to initiate further developments in the request.
A complete Employee leave data is presented accurately on this platform.
The employer can approve and decline the leave request. Process Development notification is sent to the employee immediately.
Benefits of Scopex Automated leave management system.
An automated leave management system helps the HR personnel efficiently track the leave history for each employee and release the payroll accordingly.
Accuracy, Efficiency, and Integration.
Reduces the error by 90 %
Enhancement of productivity
Less paperwork and supports Go green initiative
Important information is safe.
Data integration into the dashboard.
Effective communication – stakeholders are timely notified and informed.
Traditional leave management in a large organization with a larger workforce can complicate the process. Automating the process will ease the operations and save time and energy. Scopex is one operating system that makes it easy to navigate and track multiple leave requests and reduces the inconvenience associated while applying for leave. When you invest in an
Automated leave management
system, peace of mind comes as a combo.
Scopex Apps provides a FREE Demo to all its client to play around with the product & get to know if it suits their business. Scopex apps also offer a 1 to 1 free demo session to explain how you can use Scopex apps for your business.