Customer Relationship Management (CRM)
Scopex helps your business grow with a customizable and extendable CRM platform. Empower your sales team with robust product management and intelligent quote generation. Leads Assignement. Solid customer support. Analytics & charting.
List of CRM Features & Functionalities
While analyzing and examining your choices for the right solutions, focus on CRM features and the functionality list of the desired system.
Automate lead sourcing – from different other channels like websites, web forms, social media platforms etc.
Distribute leads to sales team or resource
Manage lead pipeline
Nurture promising leads to conversion
Sales stage and probability analysis
Track key activities and information
Engage with leads across multiple touch points like email, SMS etc.
Generate and share quotes effortlessly (Online/PDF formats)
Access Control on quote generation & approval
Templates with Tax & Discount options
Get stock information and adjust delivery commitments
Track negotiations and discussions for a faster sales closure
Resolve customer queries with hands on information
Monitor sales team's activities on a real time basis for each opportunity
Automate remainders for scheduled task/activities
Manage item prices at customer level
Set delivery milestone/date target
Get alerts when items need to be delivered
Track and control every sales order's status in real time
Estimate cost and profit line for each order
Enable backordering for out of stock products
Convert order copy to Invoice in one click
Feasibility for partial invoices against order
Track payment status for each order
Generate delivery challans
Enable and Send sales invoice automatically to customers
GST management
Save all critical documents related to sales at one place
Create customer-wise balance reports and track all dues/credit within the same platform
Notify and alert customers regarding pending dues, etc. automatically and regularly
Empower sales team with accessibility to app from anywhere any time using mobile devices.
Manage sales team territory/location wise
Strategize sales target executive/team/ territory/location wise
Monitor sales team and sales executive performance territory/location wise
Analyse sales team and sales executive performance based on conversion ratio, deal size
User role wise access control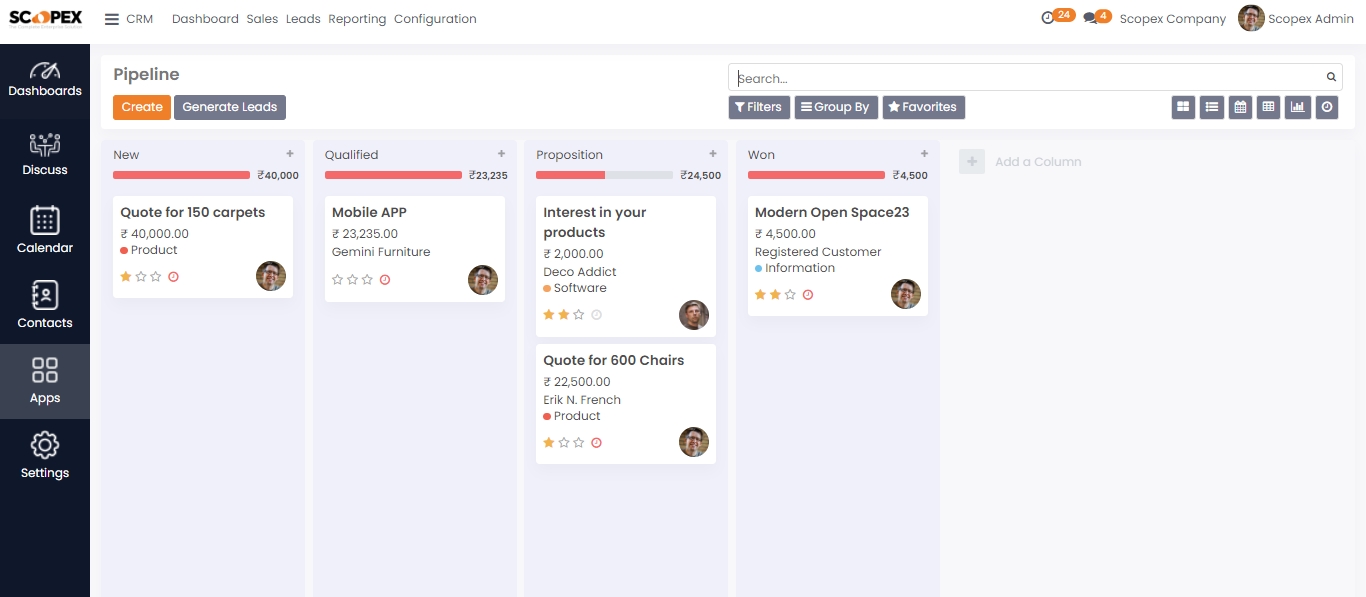 Keeps track of everything within your CRM pipeline and handles it like a pro.
CRM pipeline depicted in Kanban view.
Easy to drag and drop the stages within the loop and prioritize your lead.
Configure the colour coordination of the pipeline stages based on operational needs.
Define Filtering and grouping tools.
Define Priority-based star indication to each of the leads and opportunities.
An organized sales pipeline for hassle-free conversion of Leads into deals.
Track development of opportunity and take necessary action.
Define your custom pipeline stages. Define stage name and stage probability
Create new opportunities
Define follow up activities to nurture the opportunities
Track the entire activity of the pipeline in Kanban view.
Schedule and track meetings, email, call as the next activity.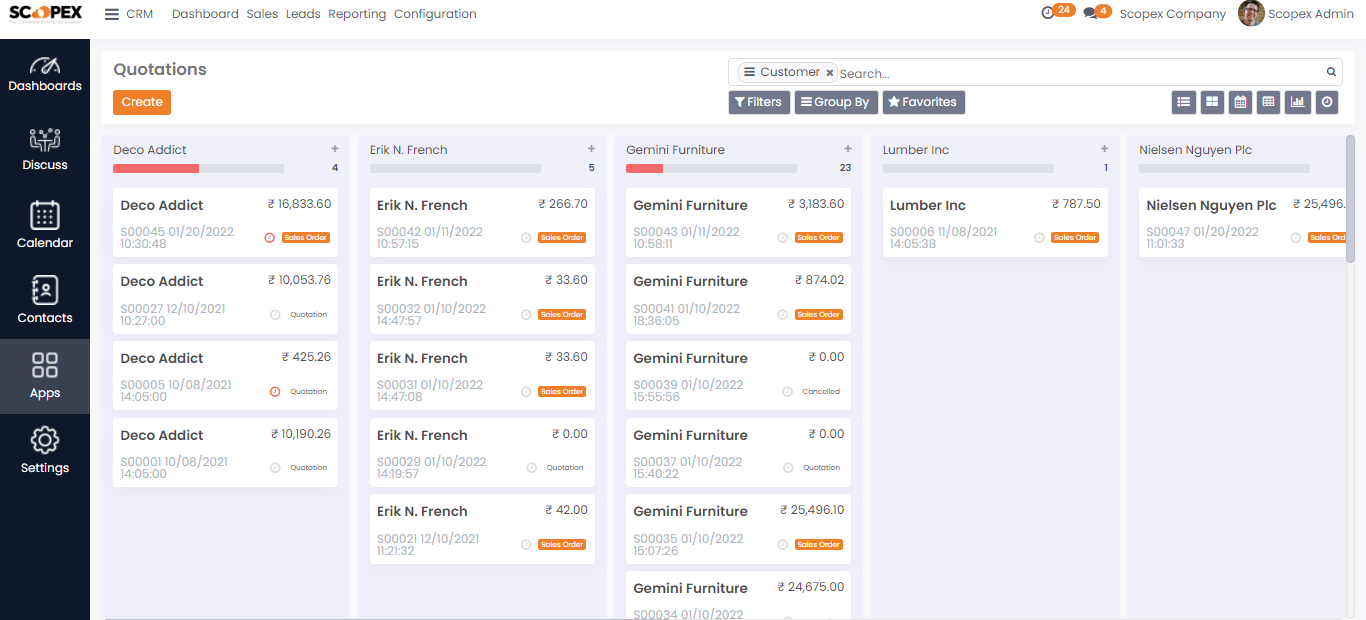 Activity Event Management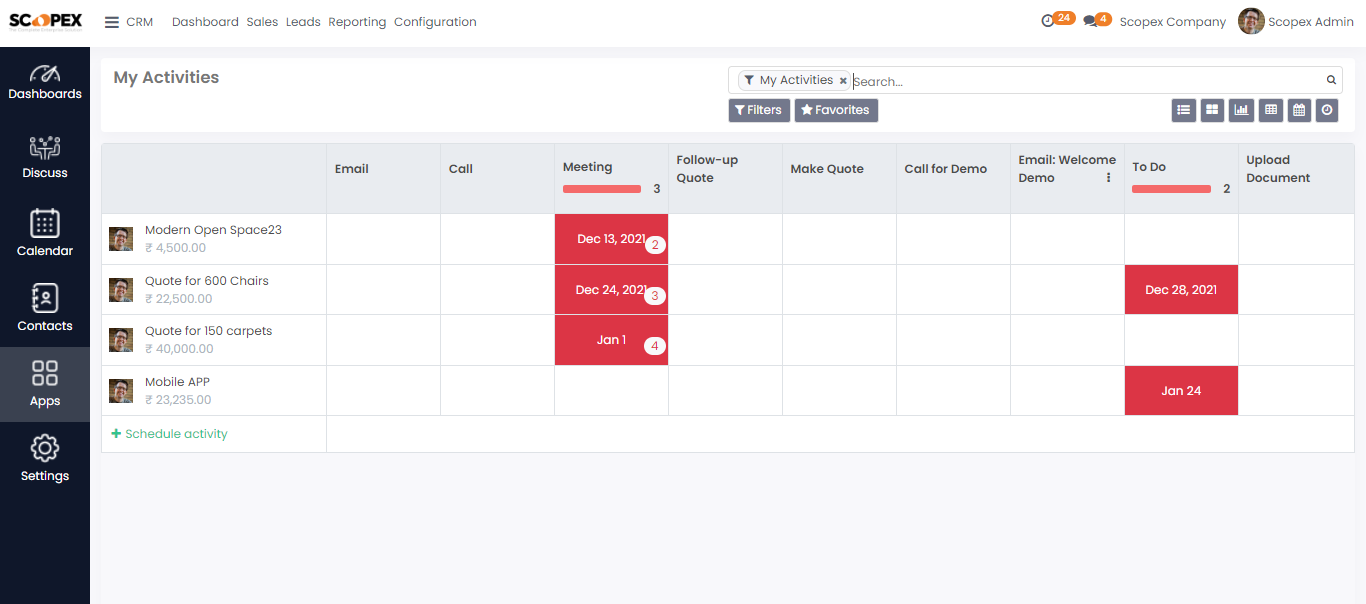 Better management and filtering of activity records with greater compliance.
Reduce human efforts through automation
Filter and manage all the activities records.
Easily create new event activities.
Get Report and analysis of activity events.
Seamless integration with other modules.
Get smarter and boost your business with customer-centric CRM
Capture your leads from various sources with seamless integration.
Generate leads in one click, manage contacts and deals easily, create tasks and notes.
Save time with an interactive and comprehensive dashboard.
Send emails and track all your communication in one place.
Set up meetings with your clients.
Send SMS and nurture your clients with relevant updates.