Mobile Apps for Manufacturing Industry
Make manufacturing process more efficient and save your valuable time using powerful and agile manufacturing solution to handle the complexities in the production process, create and manage BoM, manufacturing orders, and track work orders and, etc.
Effortlessly generate quotations in real time
Instant quoting with seamless integration with other modules such as sales, purchase, inventory, and accounting to save your valuable time.
Track, manage and monitor the manufacturing orders.
Manage manufacturing order items into assembling line or manual gathering.
Plan and manage the manufacturing operations.
Define work centres, create a work order, and set up a routing mechanism.
Assign manufacturing lead times.
Organize the work using the Kanban view.
Default quotation template and send out the quotations via email.
Define the deadline to complete the manufacturing order.
Seamlessly integrated with inventory and other modules.
Generate traceability reports, cost analysis reports for your manufacturing order.
View the status of all ongoing manufacturing orders in a single interface with enabled filters and groups.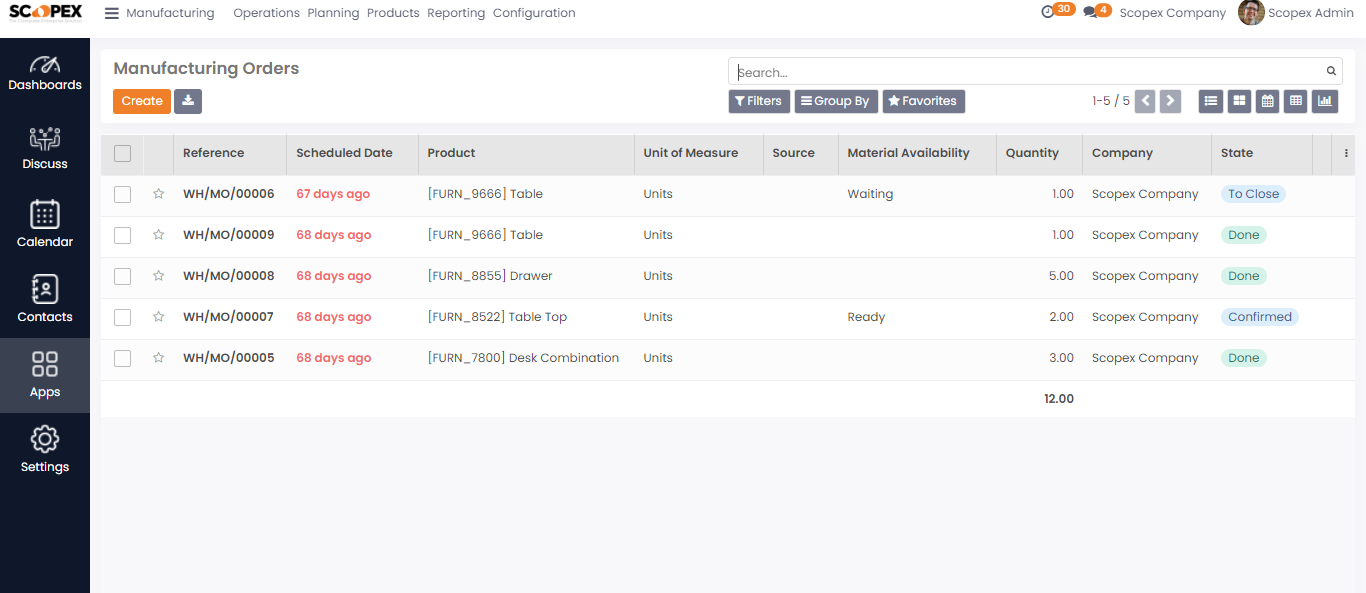 Manage the unbuild orders effortlessly.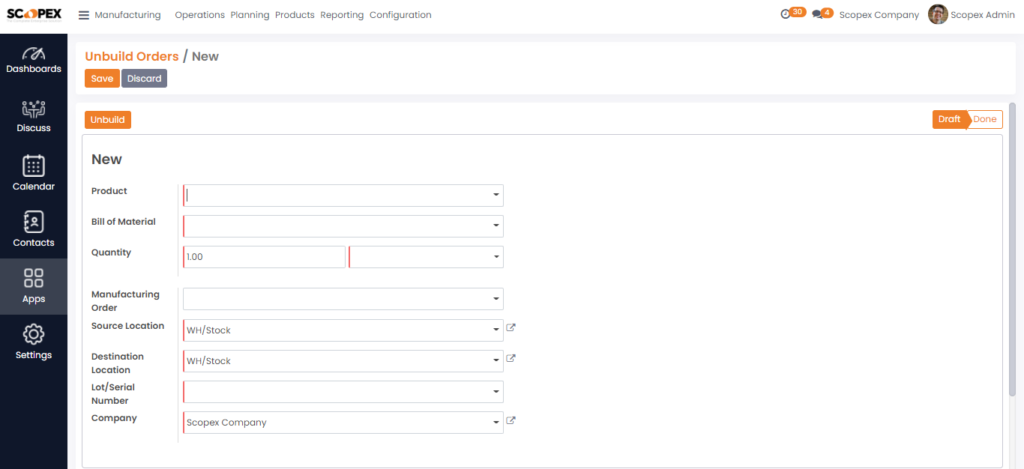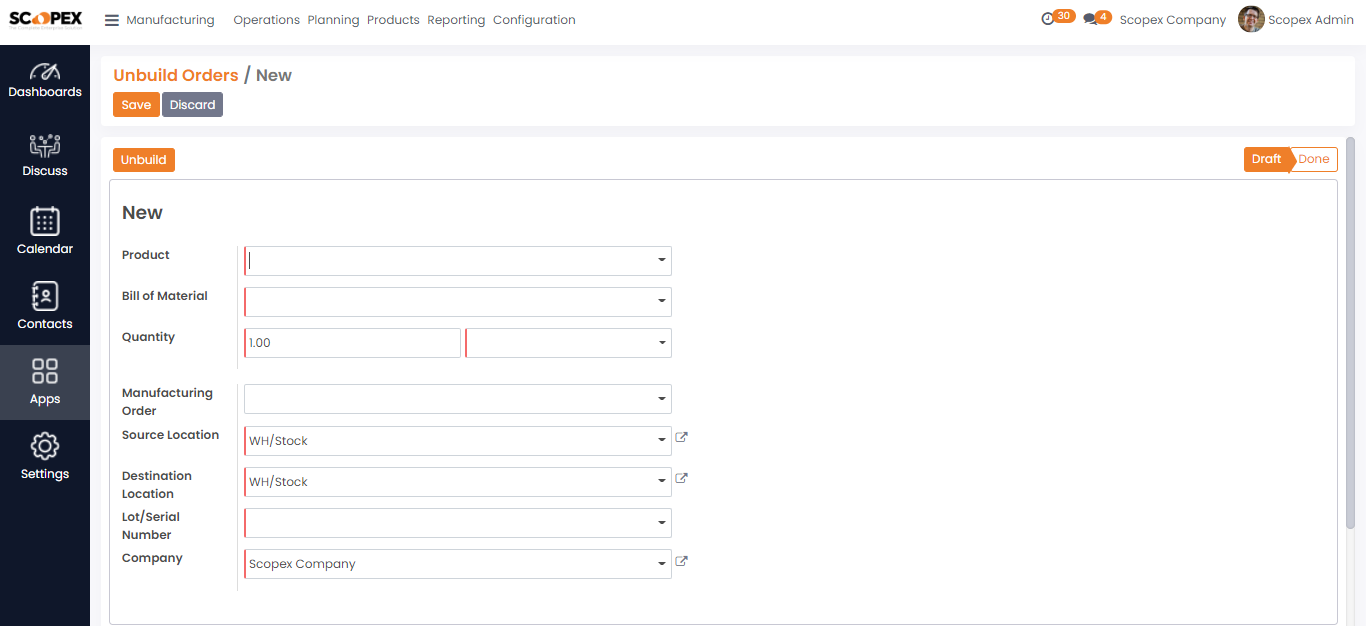 Seamlessly unbuild the product received or built by themselves, in case of defect/ damage.
Define the and draft unbuilt orders.
Scopex allows activities schedule, adding log notes and sending a message, and attaching files within a single interface.
Validate the Unbuild order with just a mouse click.
The scrap button is present almost in all forms of production.
Create scrap orders at any stage of the production line.
Define and Draft the scrap orders and validate them with just a mouse click.
Scopex allows activities schedule, adding log notes and sending a message, and attaching files within a single interface.
One can add scrap dates based on the durability of the manufactured product or equipment.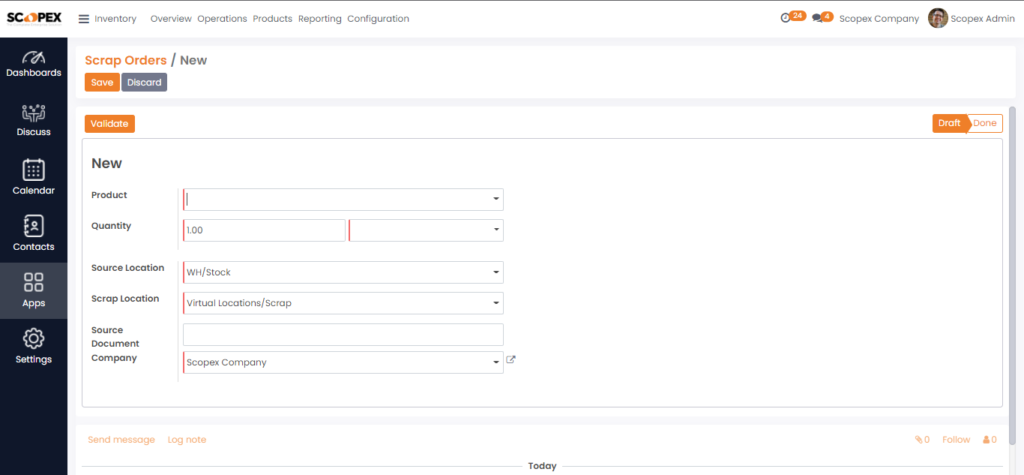 Enhance the traceability gaining visibility to organized product variants.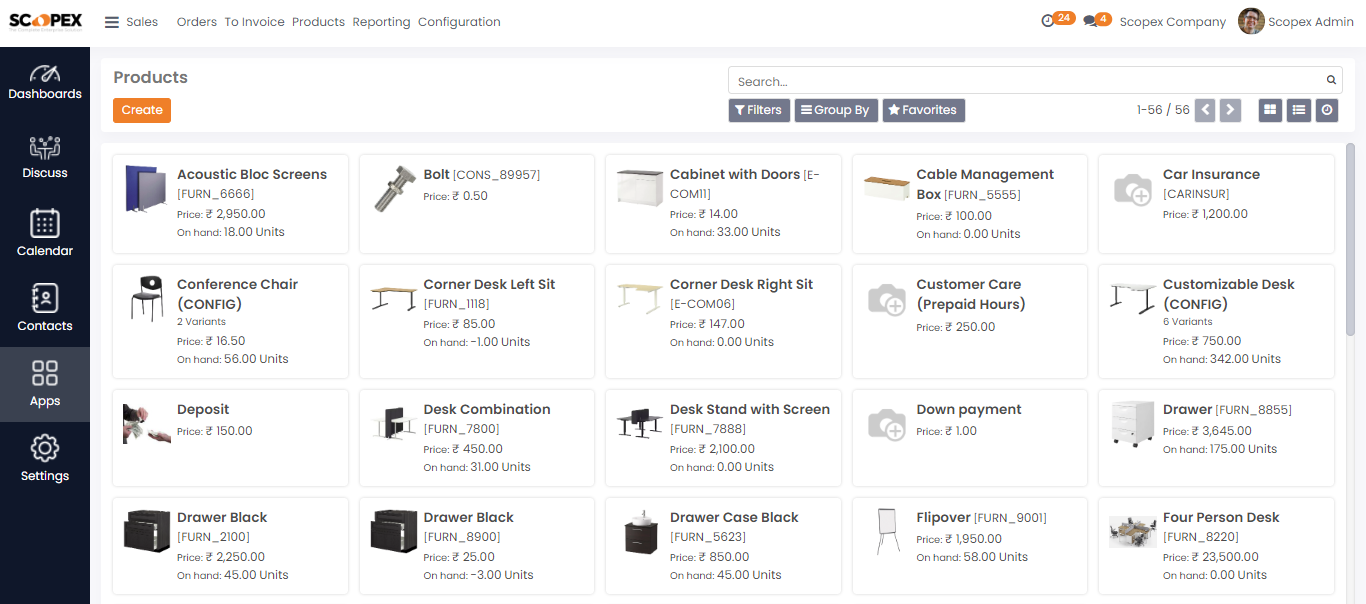 Share all the production-related data for both external and internal data.
Generate and manage products effectively.
Define product and variants routing.
Create and manage bills of materials.
Draft Bom and assign to the product and product categories.
Monitor accessibility of stock and production time.
Create multi-level BOM.
Automate the Manufacturing order populated with a Bill of materials.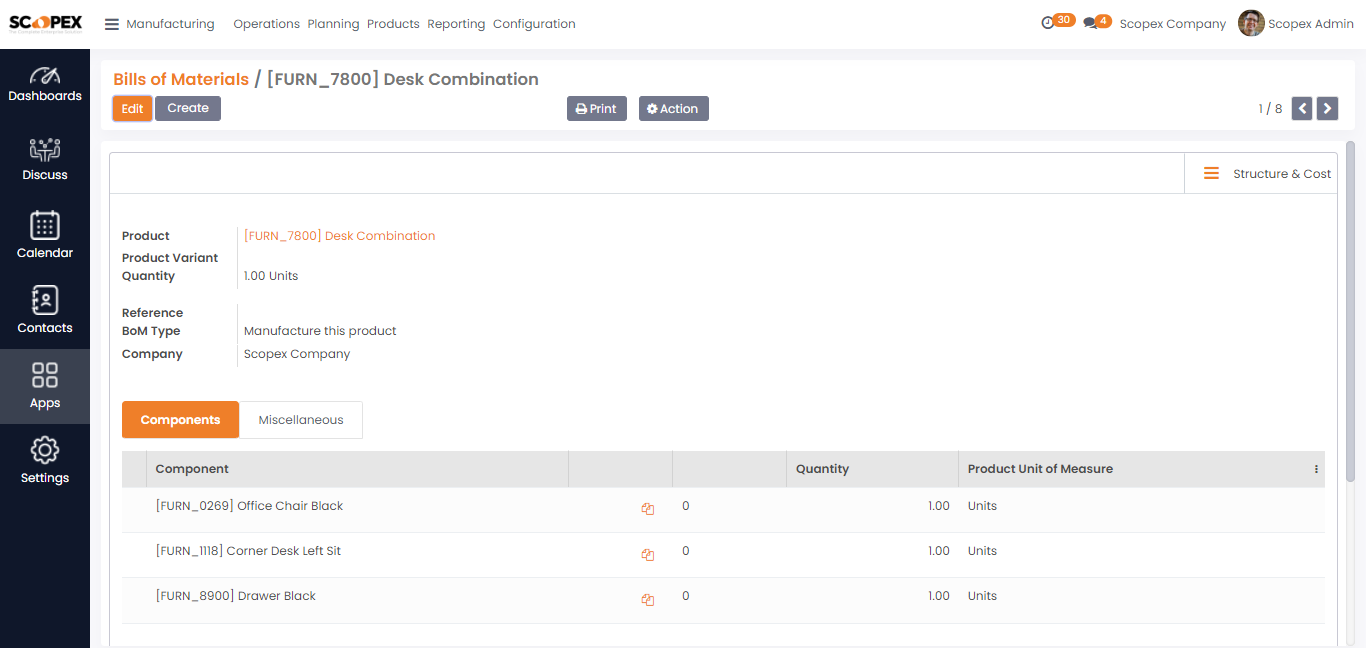 Enhance traceability of manufacturing workflow and reduce human error, and plan forecast demand.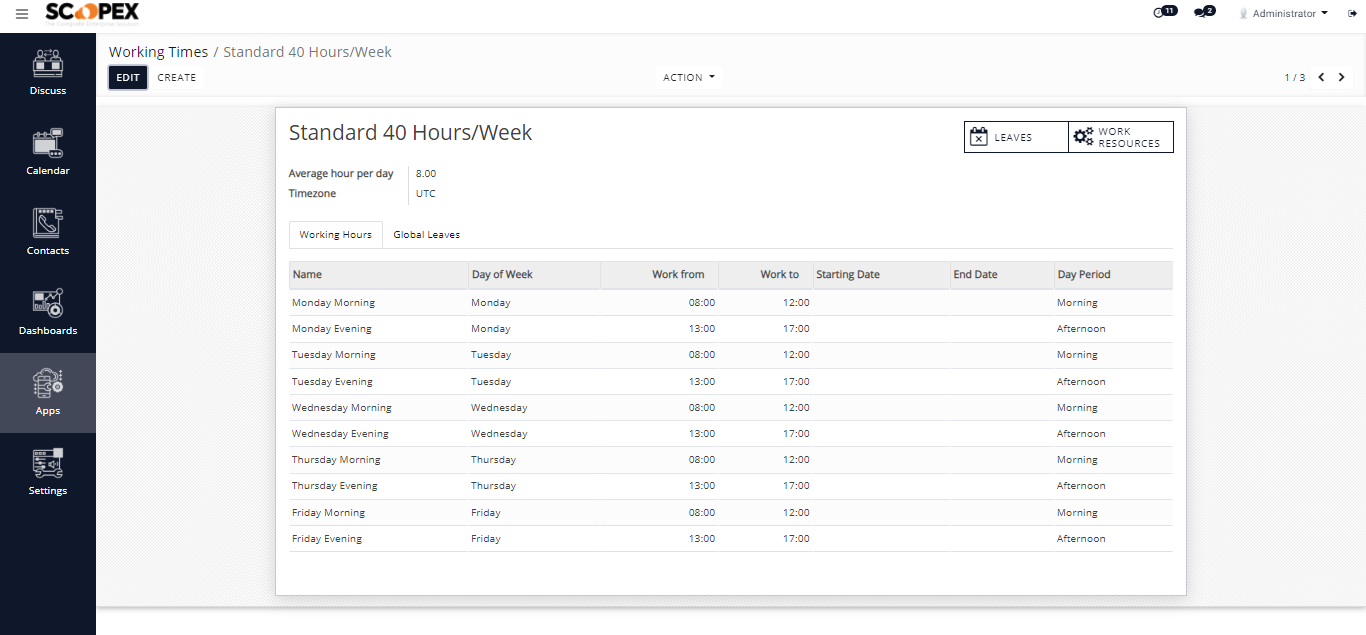 Configure the work order that activates the timer for the manufacturing order.
Start, pause, and stop the timer for the work orders conveniently, which is recorded in real-time to track the time taken to complete the work orders.
Track the time spent, expected duration, actual duration, and status of the work orders in real-time.
Access Work instructions from the records.
See the stocks move from before, during, and after the production.
Scopex allows you to schedule and maintain activities for each work centre effectively with seamless integration across maintenance, inventory, etc.
Plan manufacturing and Po's using Master production schedule
Scopex Apps provides a FREE Demo to all its client to play around with the product & get to know if it suits their business. Scopex apps also offer a 1 to 1 free demo session to explain how you can use Scopex apps for your business.
Frequently Asked Questions

A business process- compliance system for sure!! Now our procurement process is more secure and audit-friendly. SCOPEX Procurement Apps allow any level of customization and flexibility. Glad we are partners now.

The interface is easy to navigate and generates complex BoM effortlessly. We receive excellent support 24*7 before, during, and after the implementation of ERP. The team is willing to modify requirements more quickly than other providers.

We use it across the organization. Efficiently catalogs items into procurement. A benchmark system that is undoubtedly our source for sourcing.