How does ERP software deliver an improved ROI for your business?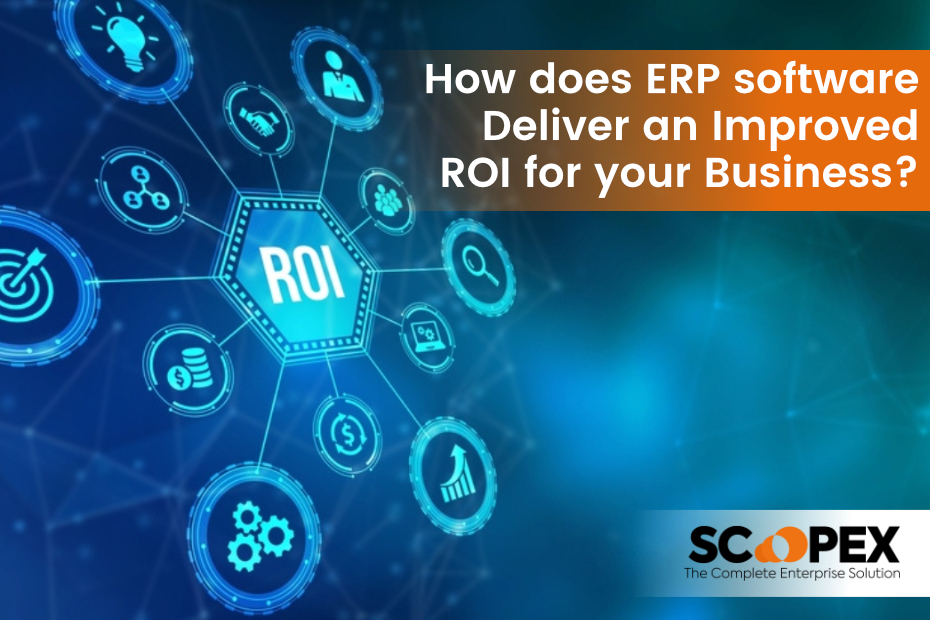 Have you ever given your thought as to why companies prefer using the ERP framework? Businesses invest capital anticipating healthy returns. ERP software is an investment where businesses expect returns on the invested capital. The system benefits are beyond what traditional business practices can offer. The system delivering an ROI for your business is a bonus you receive beyond its functional benefits.
ERP deployment into your business can lower operational costs, boost efficiency, and enhance process integration. In other words, it is an integrated system designed to assist you in running and handling business operations efficiently so your company can scale up and prosper. ERP Implementation needs upfront cost. After the successful deployment, you can enjoy its benefits in less time. However, a good fit and robust ERP software are crucial for your business in the long run for fetching improved ROI.
Some common ways how ERP Software delivers an ROI for your business are as follows,
Cost-Efficiency operations
Post-launch of the system, ERP software can streamline business processes by combining their core functions into a unified, enterprise-wide structure, saving them a lot of money in the operational processes. It enables you to measure the operating expenses and keep a tab on the workflows empowering you to reduce their operating costs, leading to more cost-efficient business.

Increased Productivity
An ERP software program automates business processes and workflows, thereby removing manual handling of routine and mundane activities and enabling them to concentrate on what matters most for the company. With the aid of the system and tools, you'll be able to utilize your employee's talent, time & energy for productive work and boost their overall efficiency.

Agile and data-driven decision making
The cloud-based ERP solutions enable enterprises to monitor real-time Key metrics and analytics. It empowers critical business decisions by accessing real-time data via cloud technology. You can utilize the resources effectively to maximize the productivity and growth of the company.

Greater transparency Across Operations
ERP systems and tools give you a clear picture of what is happening in each department. The streamlining of business operations and processes are top-notch in ERP System. As a result, identifying and mitigating the potential issues in the company can be quick and effective through data-driven business decisions minimizing its impact.

Centralization Of Database
An ERP system ropes together the various departments of the company. It Streamlines every core business process seamlessly in a single system eliminating the need for independent systems for various departments in a company and the struggle to coordinate the data across the department. Handling the previously disorganized operations is now effective. It not alone saves money and time but enhances collaboration, coordination, and communication resulting in better inter functionality between teams and projects.
Communication and business intelligence
Accurate analysis and interpretation of the data is not a walk on the rose bed if done manually and is prone to manual errors.
Higher Customer Satisfaction
A happier customer gauges the business's success. ERP Software fuels your business running by allowing your business to provide premium services to your customers. ERP system empowers your business operations with the necessary tools to understand customer requirements, solve grievances and maintain everlasting rapport. Meet the challenges of the industry 4.0 revolution market using ERP software and gain good ROI.
Conclusion
There's no way around countering that businesses need ERP solutions. With customizable, flexible, and good-fit ERP software, you can reduce operating costs, increase productivity, and improve process integration to increase profitability. However, ROI analysis is a vital component of the ERP selection process. It differs from one business to another. There are a few key parameters that are universal in the majority of industries. It is always a good idea to take help from experts by considering the complexity of the process. For more information and a
tailored demo
, contact us at
Scopex.in
Scopex Apps provides a FREE Demo to all its client to play around with the product & get to know if it suits their business. Scopex apps also offer a 1 to 1 free demo session to explain how you can use Scopex apps for your business.