5 Best ERP Software Companies for 2023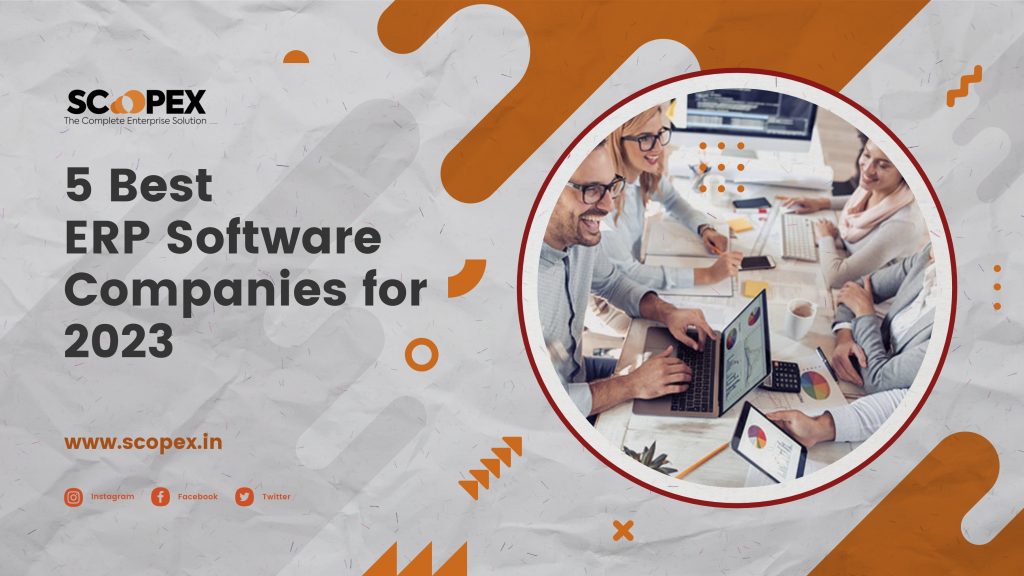 Scopex ERP Company is expertly designed and developed with a motto to provide integrated micro and macro apps to quickly implement all its features without compromising the data security at a very affordable cost for all businesses of any size and sector.
Deltek provides a selection of software solutions for small businesses, professional services automation, project management, human capital management, and ERP. The ERP and PSA solutions from Deltek are designed to help businesses streamline their core processes and improve departmental cooperation. Serve multiple industries, including aerospace and defence, healthcare, non-profit, building, accounting, engineering, and education.
Global businesses in the manufacturing, distribution, building supply, retail, and automotive sectors can use flexible, cloud-based enterprise solutions from Epicor Software Corporation. The company has years of experience providing analytics, CRM, data management, ERP, e-commerce, financial, HR, sales, enterprise content management, business intelligence, and supply chain management technologies to its clients.
A global provider of cloud-based services and enterprise resource planning (ERP) solutions for small, medium, and large businesses across more than 15+ industries, Oracle. Our company's solution portfolio is developed to assist businesses in expanding, scalability, and industry change management. Its capabilities include an integrated system of features for omnichannel commerce, professional services automation, financial administration, accounting, inventory management, and more. The corporation primarily deals with manufacturing, retail, higher education, financial services, and the healthcare industry.
Businesses can use a variety of open-source company management applications from Odoo, including those for CRM, e-commerce, inventory control, point-of-sale, accounting, project management, and human resources. Our business provides 35+ applications that can be added to the platform as needed. These applications cover a wide range of functions, including timesheets, websites, purchases, and everything in between. Odoo is an affordable option for expanding businesses looking for a solution that can scale with them, with several price points for varied purposes.
Scopex Apps provides a FREE Demo to all its client to play around with the product & get to know if it suits their business. Scopex apps also offer a 1 to 1 free demo session to explain how you can use Scopex apps for your business.