What are the Advantages of Mobile ERP?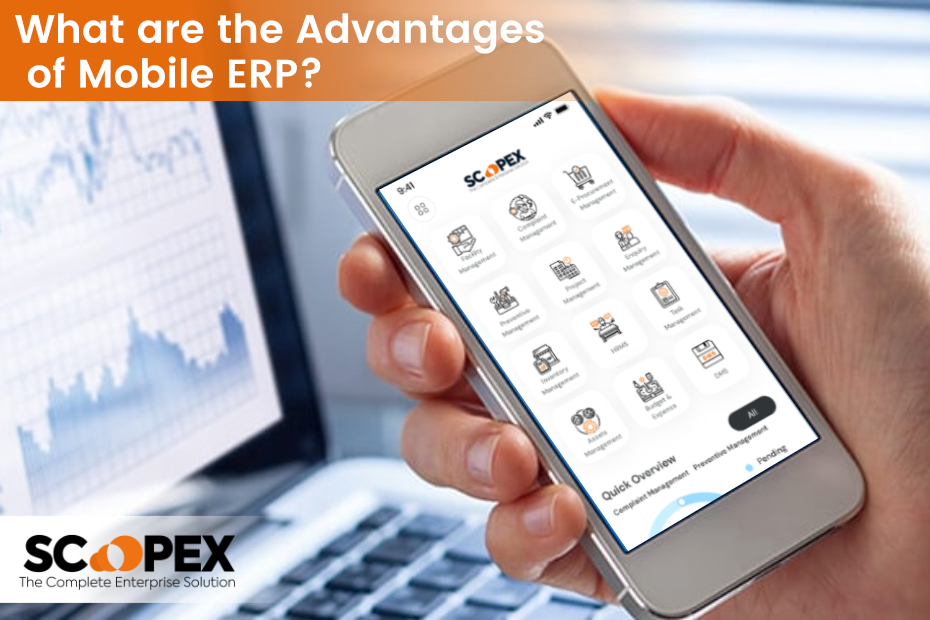 Enterprise resource planning is an integrated, all-in-one software solution that helps businesses to streamline and automate their processes, encompassing every business aspect. An ERP solution like Scopex ERP facilitates coordination across the department by centralizing the organization-wide data on a single unified platform and provides around-the-clock, 360-degree, real-time visibility into your business operations and stands on a single dashboard.
From the invention of large-size computers to palm tops, technology has been evolving, So are the business industries and the technologies they deploy to improvise and revolutionize their business. The software was only on desktops or laptops in the office, but the advent of cloud computing and enterprise mobility has changed those perspectives. Today an ERP mobile application is trending and has a competitive edge bringing more flexibility and boosting productivity. A Mobile ERP allows the members to upload, access, and share critical information through their Smart, handheld devices ensuring live business data on the go without demanding an extra penny.
Carrying out business activities using Mobile ERP is simple and more efficient. Companies can be more agile, proactive, and responsive in critical situations. Your business can deliver personalized customer experiences by increasing the rate of responses using Mobile ERP.
Today, an increasing number of organizations are adopting the mobile platform.
Mobile ERP
Applications are driving innovation, saving time and operational costs. They are enhancing business transparency across the departments, offering automation, and delivering productivity, efficiency & higher revenues. Now let us look at the benefits a Mobile ERP Applications can offer to different businesses.
Cloud Storage
Mobile ERPs run on the cloud, are flexible, and streamline business operations without compromising efficiency. Daily activities of all business operations are simplified and driven by cloud-based mobile ERP Apps. It allows access to the data from anywhere at any time, saving time and operational costs and increasing productivity.
Improved Decision Making
All-in-one mobile App stores all relevant information on a centralized database accessible around the clock. You can see the live status of your business, identify the roadblocks and bottlenecks in the business operations, processes, and strategies and evaluate your planning. It offers proactive solutions to problems through real-time data. You can work towards a better approach.

A high degree of Collaboration
Mobile ERP systems offer a centralized database that allows team members to collaborate better with each other and brings all relevant people on the same page.

Improved Quality of Personalized experience
Mobile ERP empowers employees to resolve customer queries without delay by providing access to vital data when on the go. It offers enhanced customer experiences and helps to maintain and sustain long-term customer relationships.

Business Agility
Mobile ERP Apps make businesses more agile, proactive, flexible, and affordable, helping you forge a strong relationships with your vendors, customers, and employees.

Enhanced Productivity
Mobile ERP Applications facilitate remote access to the complete business functionality, enabling the employee to work from home. It significantly reduces downtime and paperwork. All together eventually enhances productivity.
Accurate Data
Mobile ERP tracks & monitors business activities when on the go and enable transactions on the spot. The data is collected through the mobile App and gets automatically documented in the ERP system with error-free, duplication-free data ensuring high-quality, accurate data.
Competitive Advantage
An organization having mobile ERP applications for its business processes has a solid competitive edge over its competitors. Nowadays, Customers are more informed and tech-savvy and prefer to get served by advanced technologies. With mobile ERP Applications, you have a high degree of control over business operations and can deliver enhanced customer experiences and exemplary services by decreasing turnaround time and boosting productivity.
Today's business world is becoming more agile and competitive. To maintain a competitive edge, you need to keep up your pace with the advancements that are happening around you. Contact us today at
SCOPEX ERP
to schedule a meeting with us. We will also provide a
Free Demo
!!
Scopex Apps provides a FREE Demo to all its client to play around with the product & get to know if it suits their business. Scopex apps also offer a 1 to 1 free demo session to explain how you can use Scopex apps for your business.