5 Key Benefits of ERP for Accounting & Financial Management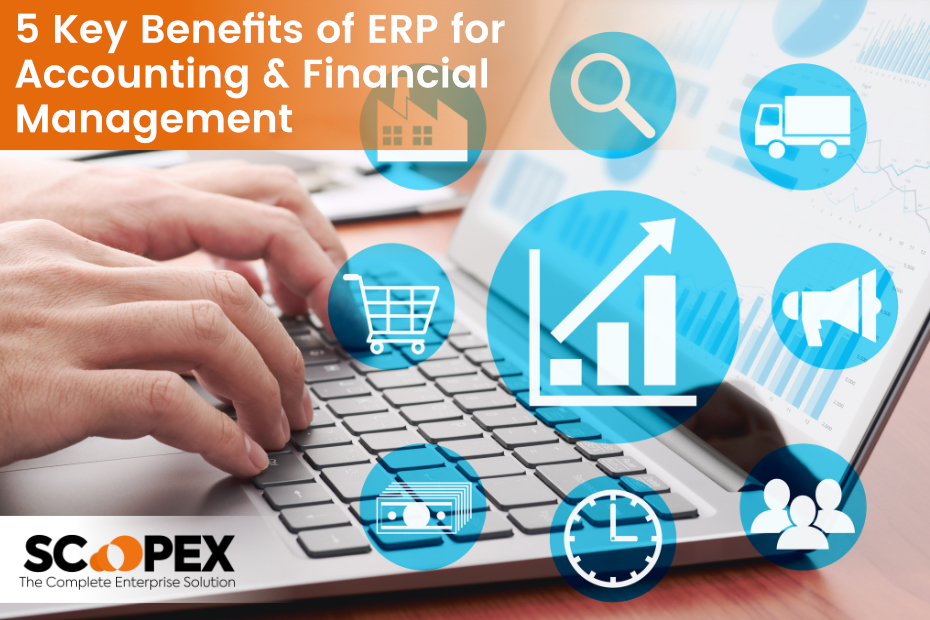 Enterprise Resource Planning (ERP) is a crucial part of modern businesses. An ERP provides all the features and functionalities required to fit into Industry Revolution 4.0. The technology architecture of an ERP addresses all the pain points of today's businesses of every size, including inventory needs, visibility to the critical business process in real-time, automated workflows, productivity, efficiency, and more.
ERP software assists in managing the myriad of business processes, including customer relationship management, supply chain operations, procurement, compliance, human resource activities, accounting and finance, and more. The Scopex ERP is not just any software that manages the daily operations of the business, but it is a system that improves business productivity and efficiency.

The benefits of an ERP system are tremendous in managing the accounting and finances of an organization.
A higher degree of financial control through business integration
Finance and accounting management is the vital part of every business. Accounting & finance functionalities, capabilities, and scale can differ from one organization to the next, but the core operations of accounting and finance management are the same. ERP enables seamless integration across the departments and offers greater control over the monetary aspects of the business. ERP software unifies the data on a single platform eliminating the need to work in multiple systems, enables managers to define the budget accurately, and handles cost analysis, allocation, monitoring, tracking, and management efficiency. It also minimizes operational costs, increases productivity, and improves the efficiency of the processes.

Efficient finances tracking and management.
An ERP system handles payment schedules, forecasts the budget, tracks revenue, and manages the credits across the business. An ERP with CRM integration triggers reminder notifications and alerts and prevents the number of complaints related to financial handling.
It also offers multiple payment gateway integrations and automated routing to the payments systems that help you to manage billing, payments, and revenue. Cost analysis, profit tracking, invoice tracking, budgeting, Investment management, etc., are easy and smooth like never before using ERP financial management system.

Real-time visibility and data security
ERP streamlines all financial processes and optimizes the resources to assist you in increasing your bottom line by providing quick access to critical information so that you can make data-driven decisions keeping all of the organization on the same page. An ERP system offers increased security and multiple reporting tools eliminating the stress of juggling between spreadsheets and paper files.
You might have sensitive and critical information stored in the system that you want only authorized people can access. An ERP system swears on it by safeguarding your financial data.

Seamlessly Integrated data across the multiple territories of an organization
With an ERP system there in place, you'll get rapid data synchronization and a real-time, updated view of the organization. It generates, consolidates, and manages data to manage business processes and operations effortlessly. An ERP system supports multiple languages, currencies, companies, and charts of accounts and lets you gather financial data from different departments to generate reports such as general ledger, etc.

GAAP compliance ensures proper reporting of business finances
Typically, the full-fledged ERP financial management system is GAAP compliant. GAAP is the accounting standard that provides a systematic methodology for recording events and transactions. An ERP system enables all information it stores to be trustworthy by automating mundane workflows, detecting duplicates, and eliminating human errors, encouraging productive financial reporting that works in compliance with GAAP.
Scopex cloud delivers an all-in-one, adaptable, feature-rich, and integrated custom Enterprise Resource Planning software that streamlines your business processes. Scopex financial and
accounting management system
provides all the functionalities that support your needs today and in the future.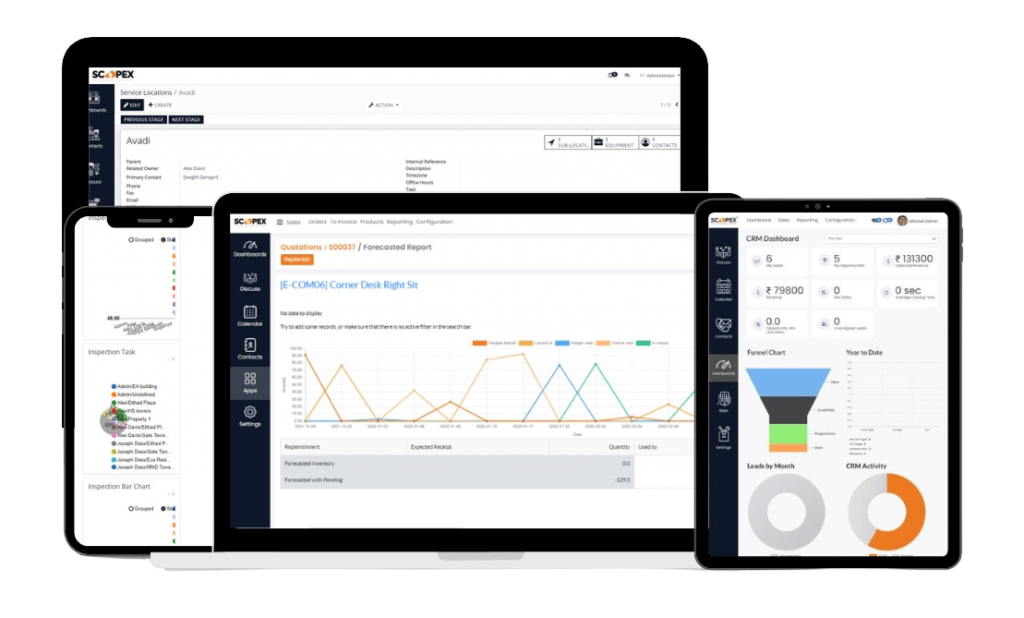 Scopex Apps provides a FREE Demo to all its client to play around with the product & get to know if it suits their business. Scopex apps also offer a 1 to 1 free demo session to explain how you can use Scopex apps for your business.