End-to-end ERP software in India
Scopex ERP system is an end-to-end ERP software in India. It helps to manage real-time business data, including inventory management, supply-chain management, service management, CRM & sales, accounting management, etc. It is the best ERP system that provides premium cloud solutions for your business, company, or organization. Scopex ERP is one of the best custom ERP systems that cater software solutions to various industry verticals such as manufacturing, construction, fleet, facility, education, trading, etc.
All-in-one ERP systems provide a broad range of functionalities within a single solution. You don't have to sync them with third-party applications to get the desired features. Many of these systems have advanced and modular features to obtain an integrated solution in a unified platform.
Check out the following features, functionalities, and capabilities of the ERP software below:
Business Intelligence
Many ERP software has advanced business intelligence tools that display data on customizable dashboards allowing organizations to identify trends and make predictions. It also gives visibility to the operational, financial, and business data to make critical decisions, create reports, and create forecasts.
Accounting and Financial Management Tools
Scopex ERP tools are best suited for any industry vertical. Accounting and finance are the heart of any business that is managed efficiently and without error by ERP software with the help of automation.
CRM and Sales Tools, eCommerce
End-to-end ERP software empowers companies to personally target and follow up with opportunities and helps to close the deals at lightning speed. It includes POS [point of sale] capabilities and e-commerce functionalities. It organizes details of past, present, and future Deals.
Supply Chain Management
The best ERP SOFTWARE for supply-chain Management tracks inventory and manages orders. Inventory control, warehouse management, Purchase order management, Demand Planning, Sales forecasting, Approvals management, vendor management, and real-time order tracking are some of the crucial tools of the software.
Other features
Data centralization, procurement management, service management, manufacturing management, payroll management, and Human resource management system are the few essential features of the Scopex ERP system.
If you are looking for end-to-end ERP software in India, your search ends here. Get your FREE DEMO for your company now!! Scopex ERP solutions are available at affordable prices.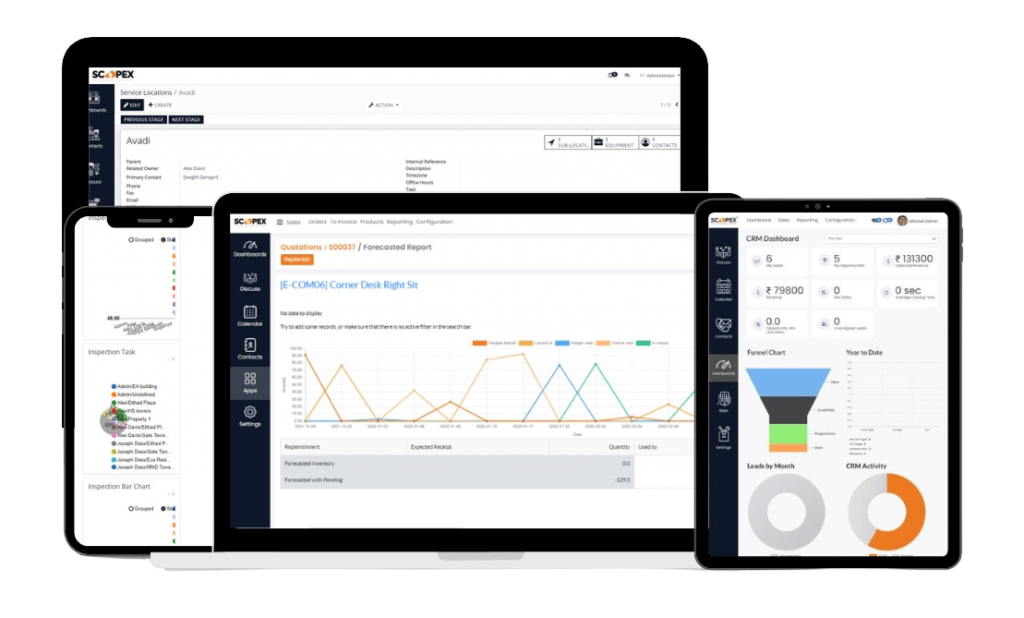 Scopex Apps provides a FREE Demo to all its client to play around with the product & get to know if it suits their business. Scopex apps also offer a 1 to 1 free demo session to explain how you can use Scopex apps for your business.