Best calendar App features of Scopex to help you manage your business better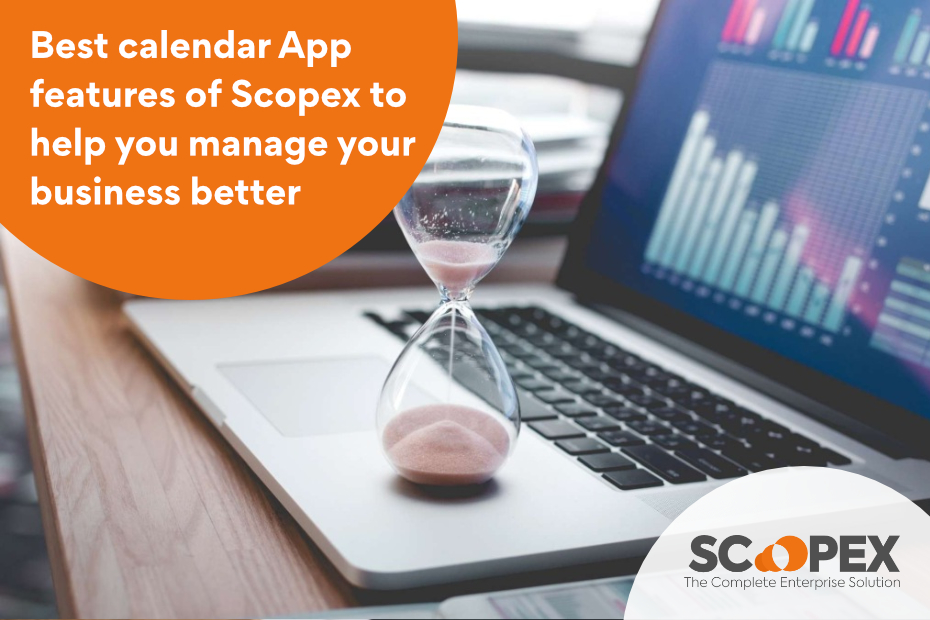 Whether it is a job, side work, or a vacation, entrepreneurs, and businesses need the help of a calendar to stay organized with events and appointments. An efficient calendar App with rich features helps employers and the workforce manage professional and personal responsibilities. Businesses using the right-calendar feature for specific purposes will help manage business better. Following are the most helpful features to look for in a calendar app for effective business management.
Effectively schedule events and appointments:
Event scheduling features in a calendar app are a blessing for those working remotely.  Certainly, Scheduling meetings for the workforce located in different territories is a nightmare.
Especially during the high-priority deal, events, and meetings that demand the presence of key-team members.
But, a calendar app with a smart-event scheduling feature can make it easy by including the feature to show when your team members are busy or free before you plan an event and allowing team members to access events and meetings irrespective of their locations.
Scopex Calendar module has a feature to seamlessly schedule events and appointments internally with a team and also with business clients externally.
Embeds and shares the details with the team:
When you work in a company, you need to keep everyone on your team on the same page. Everyone in the loop must know the scheduled activities and availability of the team members. So, you may need a calendar app with dedicated embedding and sharing features.
Scopex calendar App helps you personalize your calendar details before sharing them with the team/ publicly. It offers Multiple templates to give the desired look for your calendar and embeds your team calendars too. The calendar module lets you share your upcoming events and appointments with specific individuals when you don't want to share the details publicly.
Cross-platform synchronization:
Cross-platform synchronization is crucial for businesses. Switching back and forth from different providers to schedule shareholders' meetings, M&As is cumbersome while having so many others things to do in an organization. The calendar App must allow cross-platform synchronization to place all your calendars from different providers on a single platform.
Scopex offers various plugins to help you sync quickly from your google and Microsoft Accounts and update your schedule from centralized locations.
Keeping teammates in the loop about upcoming activities is all business owners' aim. The calendar app you use must offer more ways to achieve it with one interface for all your employees, especially the remote workforce.
Having a team calendar feature in a Scopex calendar app works wonders in saving your valuable time and in increasing your productivity.
Calendar App sync with the mobile device:
Every business demands onsite work where the workforce stays away from his desk. If you are a business owner, sometimes, you may have to conduct your business operations on the go.
All you can depend on in this situation is your mobile device. So, A calendar App must be highly responsive on your smartphone and tablet.
Scopex calendar App lets you schedule and manages events, appointment, and meetings from your mobile device.
The calendar app must help you move events between your various calendar platforms. Scopex offers import and export features that effortlessly manage all your events with a single app.
Scopex lets you subscribe to calendars of your team and colleagues and allows you to import and export events from calendars you have subscribed to as files. You even receive a notification about their upcoming activities.
Time is money is what everyone says. A calendar lets you guard your time in an organized way and makes you more efficient and productive. When you are into a mission searching calendar App, ensure you get all the above features. The Scopex calendar offers all these features to manage your business better without a doubt.
Scopex Apps provides a FREE Demo to all its client to play around with the product & get to know if it suits their business. Scopex apps also offer a 1 to 1 free demo session to explain how you can use Scopex apps for your business.