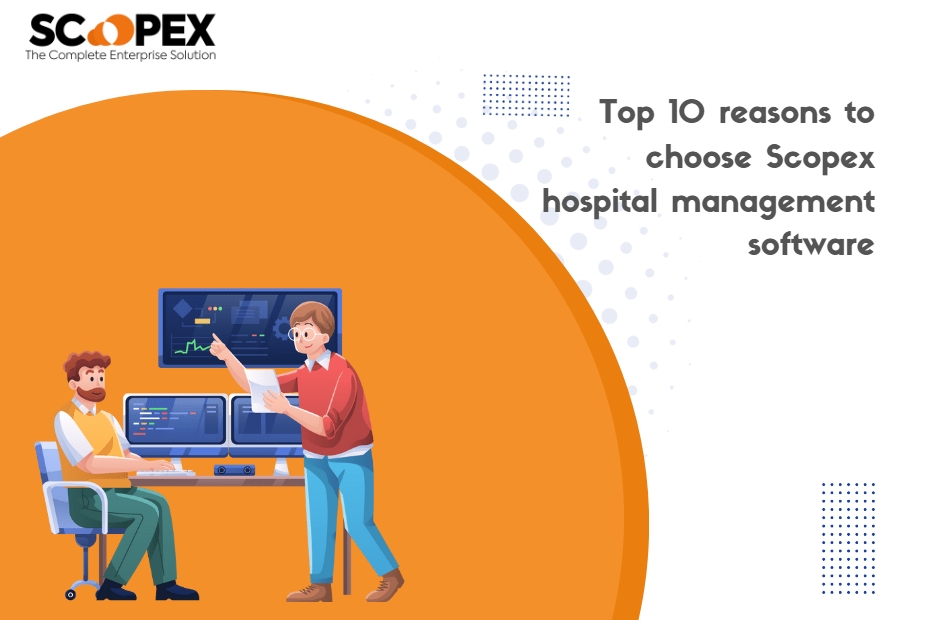 Top 10 reasons to choose Scopex hospital management software
For any hospital to run as a well-oiled machine, you require a system that gathers a quantum of information and assists in accurate decision-making. You get goosebumps even to imagine balancing aspects of running any hospital. Managing patient records, medical billing, pharmacy, labs and scans, doctors, registration, appointments- the list goes on!! It is a nightmare to handle all these functions efficiently without a hospital management system.
What is a hospital management system?
An HMS is a computerized/web base/mobile software system that helps you manage various complex processes and workflows of the hospital that helps to streamline the daily activities. It provides interfaces for the hospital stakeholders to record, access, edit, manage and report every aspect of hospital functioning.
Vital features that the best hospital management software must have
A comprehensive Hospital management software is a complete suite of feature-rich apps that assist documentation and management of the following.
• Patient
• Doctors
• Inventory
• Medical Bills
• Insurance
• IPD/OPD
• Pharmacy
• ePrescription
• HRMS
• Staffs
• Labs and scans
Top 10 reasons to choose scopex hospital management software
1. Better tracking of finance
Scopex HMS tracks and manages revenues, outflows, debts, and receivables and generates financial reports giving an accurate big picture of the hospital.
2. High-level Data security
Scopex HMS provides permission to access the sensitive and private information of the hospital only to the authorized personnel reducing the possibility of data theft.
3. Eliminate Errors
The legacy hospital managements and high-level manual interventions are prone to more errors. Scopex HMS with automation eradicates the repetition of redundant work and offers no space for workflow errors.
4. Make Diagnosis and Treatment Easier
The comprehensive dashboards and reports provide quick access to Patient details. It helps doctors to make a better diagnosis to give better treatment
5. Improve Hospital Quality Ratings
HMS considerably improves the ratings of the hospital and your stand with the insurance company and quality circles.
6. Increase Patient experience
Hospital management App significantly reduces the time taken for registration, appointment booking, billing, discharge, and many processes and procedures. It is a good experience When you don't have to wait for anything in a long queue for hours.
7. Connect anywhere at any time with the doctors
Scopex HMS includes a video consultation and chat features. Patients can upload lab & scan reports from anywhere at any time for doctor reference and get treated by the doctors of their choice.
8. Interfaces for stakeholders
Scopex provides different interfaces to hospital stakeholders like the Patient Portal, doctor portal, admin portal, etc. It assures easy accessibility, traceability, and manageability of data and functions of the hospital.
9. Eco-friendly, Paperless Operation
HMS drives paperless operations and eliminates the need to use paper files.
10. Run Your Hospital Efficiently
You can save significant time and effort using the Hospital management app and be more productive.
Do not spend more time thinking!! You are just a call away to know the hospital management software price in INDIA.